Split System Air conditioning:
Split System air conditioning units are the most popular and cost effective option in a residential environment. They are an energy efficient way to heat and cool your home and live in a comfortable environment all year round.
These units are versatile, compact and relatively cost effective to purchase and install. They do not require large amounts of space in the roof to install, or need any ducts or holes in your ceiling.
The flexibility of split systems mean that each room can be set at a different temperature and you can tailor the temperature and usage to your taste and budget.
Aircon 4 You offers a range of Split System air conditioning units for you to choose from depending on your requirements.
We inspect your place, give you a free quote and help you choose the best air conditioner for your needs based on size, space, environment and  your budget.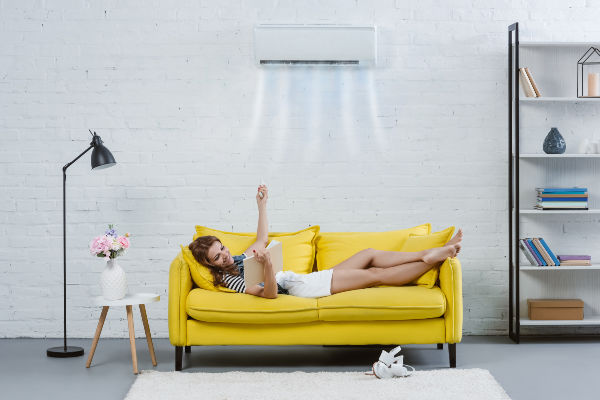 Multi Split System or Multi Head Split System
If you are considering having air conditioning for more than one area of your house but your roof space doesn't allow for ducted and your house design constraints, Multi-split system could be an option.
Multi- split systems are ideal if you want to individually control the temperature in each room. They can cool or heat up to nine rooms depending on the brands and your house design and run with only one big outdoor condenser unit. They work well for apartments, townhouses, and small offices.
It is more energy efficient and economical if only one indoor unit is used at a time. So, make sure to turn off the other units/heads if the room is not being used.
Each unit can be used separately and independently. You can on/off , control temperature, time clock operation and air circulation independently.
Split system air conditioning sizing guide
Why is it important to get the right size air conditioning?
The answer is efficiency. An energy efficient air conditioner is designed to run in cycles that will slowly cool your house, instead of doing it rapidly.
If your air conditioner is too big, it will cool your house down quickly and then turn off before it completes the entire cycle that it is designed for. Your house will begin to warm up then it will turn on again, quickly cool down your house and then turn off again. This whole on and off cycles may end up using much more power than a right sized air conditioner would.
If your air conditioning unit is too small, it will constantly overdrive as it tries to keep up with the large space. It should still be able to keep your house cool, unless it is way too small, but it won't be running as efficient as it is designed to. This constant running at a high level means that your air conditioner is not working efficiently and will cost you more on your electricity bill.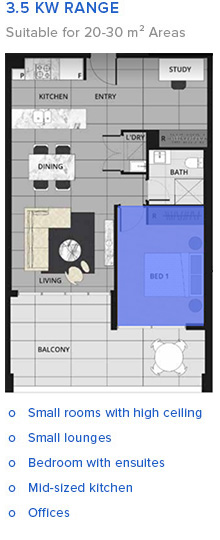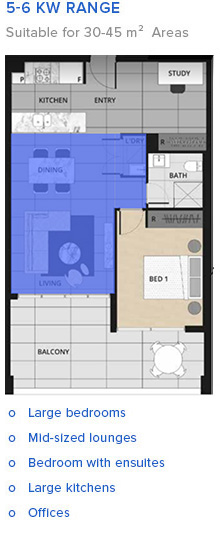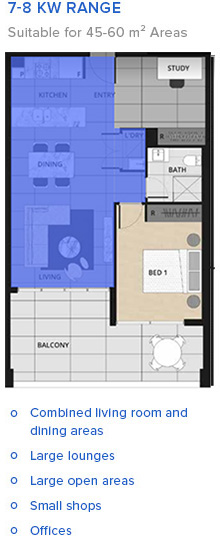 How would I know what size air conditioning I need?
We have put together above the sizing guide for split systems so you get a better idea of what capacity air conditioner best suits your needs based on the size of area, size of windows, height and insulation of ceiling.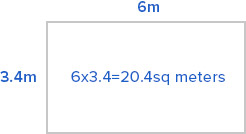 To determine the size of air conditioner you need, simply multiply the width of the room by the length of the room.
Then after you calculated the size of area you want to install the unit, follow this sizing guide to determine the KW capacity of the air conditioner.
Split System Air conditioning:
Aircon 4 You has vast experience in the installation of Split Systems and Ducted Air conditioning units at commercial and residential places.
If you need a new air conditioner installed or an old one replaced, we can help you.
We can organise an inspection to your place to help you find an air conditioning solution that best suits your need. Just a give us a call on 02 9002 1800.