PREVENTATIVE Air CONDITIONING MAINTENANCE For Homes and Commercial Properties
Did you know that the majority of air conditioning units that breakdown have not been serviced in the last 12 months?
Did you know that if you keep any pets at home, you need to service your air conditioning unit every 6 months?
Did you know that if you have allergies or asthma you need to service your air conditioner regularly?
If you answered no to any of these questions, you may want to consider getting your AC unit regularly serviced.
WHAT DOES AIR CONDITIONING SERVICE CONSIST OF?
Cleaning or changing filters for indoor units
Testing operation of all safety controls
Cleaning out condenser coil fins as required
Carrying out refrigerant leak testing of the equipment and checking gas pressure levels
Checking all fan motor bearings, mounting tightness and general operations
Checking and cleaning condensation drains
Checking and tightening all electrical wiring and components
WHAT IF MY SYSTEM IS NOT WORTH REPAIRING?
If on the rare occasion we find your system is not financially viable to repair e.g. very old or multiple major parts required, we will advise and provide a quote to supply and install a new system.
If you then decide to go ahead with our quote for the replacement system, the initial fault finding service fee will be credited towards the new system.
WHY IS IT NECESSARY TO SERVICE MY AIR CONDITIONER?
Just like you service your car every year– checking the oil filter, tyres, shock absorbers, air pressure –your air conditioning system also needs to be checked to ensure the unit is operating efficiently and effectively.
Air conditioning systems become worn and damaged over time. If not properly maintained and regularly serviced, this may lead to costly repairs and breakdowns of system just when you need it at peak times like hot summer days or chilly winter nights.
AIRCON4YOU makes sure your system is running at its best all year round through preventative maintenance.
BENEFITS OF REGULAR AIR CONDITIONING SERVICING

Avoids unexpected costs of repairs and sudden breakdowns
Preventative maintenance always costs less than major repairs and thus, helps you save money.
Improves efficiency of your air conditioning
Improved cooling and heating capacity of the unit makes it 90-95% more efficient.
Increases life expectancy of your unit
With regular service, your unit can serve you for better and for longer. No need for a sudden and expensive replacement.
Saves you money on your energy bills
A clogged filter for example obstructs the air flow and increases power consumption.
Keeps the indoor air healthy and clean
This helps improve household members' health conditions, especially those with allergies or asthma.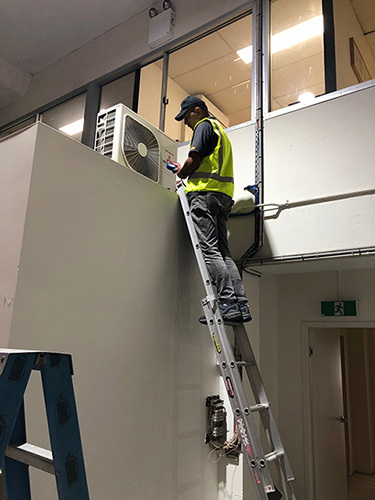 DO I STILL NEED PREVENTATIVE MAINTENANCE EVEN IF MY UNIT COMES WITH A 5-YEAR MANUFACTURER'S WARRANTY?
The 5-year warranty covers the parts and labour on replacement of faulty parts.
This means that if your system fails to operate during this period, the manufacturer will supply and replace spare parts free of charge. However, if it is known during the repair work that the parts failed to operate due to lack of regular maintenance, the manufacturer passes the cost to the customer- that is YOU!
Your warranty does not cover any breakdowns related to filters not being cleaned, clogged drains, or even corrosion due to humidity and trapped geckos or rodents.
AIRCON4YOU provides preventative maintenance on all brands and makes of Reverse Cycle and Ducted Systems for residential and commercial units.
Customers with Agreed Preventative Maintenance Plan are given priority and discounted rates for services.
Feel free to contact us for more information on Preventative Maintenance Plan.
BENEFITS OF COMMERCIAL HAVC PREVENTATIVE MAINTENANCE
What do you get when you sign up with AIRCON4YOU for preventative maintenance?
You will get peace of mind all year round from knowing your air conditioning systems are running in tip-top shape and one thing less to worry about unexpected costs of repairs.

WHAT ARE THE BENEFITS OF PREVENTATIVE MAINTENANCE?
Increases Energy Efficiency

According to the Australian Government Department of Environment and Energy, an office building accounts for 40% of the total building energy consumption with air conditioning being a major user in the non-residential buildings.

By controlling operation of the HVAC systems and regular maintenance, most building can have between 10-40% substantial reduction in the energy consumption.

Extends life span of your systems

Dirty and not well-maintained systems have to work harder and longer to generate the same degree of cooling and heating. Operating at high performance and not receiving attention and care can lead to major damage and failure. Thus, spending on preventative maintenance can save you unexpected repair costs of broken or worn out parts and add to the longevity of your systems.

Reduces sudden breakdowns and unexpected costs

Regular HVAC system maintenance may lower repair costs as much as 90%. We can't guarantee that you will never need repairs. However, our experience has demonstrated that preventative maintenance can save a substantial amount of money and reduce the chances of a surprise breakdown.
OUR MAINTENANCE INCLUDE:
Full service preventative and predictive maintenance
Filter and media services
Air balancing and testing
Repairs diagnostics
Repair and replacement of air conditioning parts
On-site restoration and refurbishing of equipment
Feel free to contact us and have a chat about our Preventative Maintenance Plan.